inlingua company service
Inhouse language training for your employees
inlingua company service in Ingolstadt and Abensberg
Inhouse language training for your employees
You want your employees to be able to apply a foreign language on the job confidently and fluently?
You are to communicate with customers and suppliers, smoothly meet tasks abroad and securely negotiate contracts?
Together, we analyse the situation and your needs. Your corporate culture, your strategic planning of resources and your internal resources will specify the framework. We offer the right training concept for your needs!
Your competent partner for company classes
For many years, many renowned companies of the region have relied on the know-how, competent service and individual programmes of inlingua. We will gladly analyse your demand and draw up a detailed offer. We are looking forward to consulting with you as well as your partner for foreign languages!
The inlingua company package
Language courses for all language levels and communication tasks
Language training for managing employees, processors and assistants
We will determine the prior knowledge and language goals of your employees
We describe language targets in a binding and practice-related manner
Training forms: Individual training, crash courses or group training, on-the-job trainings
Preparation for international language certificates (e.g. telc).
Presence check
Learning target check at the end of the class with a test
Consulting about follow-up measures
In English, German, French or Chinese, we perfectly prepare your employees for language goals. You can determine the objectives and sites where the language course is to take place.
We train your employees in individual training, group courses and seminars for different discussion situations. The profile of our qualified native-speaker trainers is coordinated with the respective learning contents. The training is performed right on site in your company or in the rooms of inlingua in Ingolstadt or Abensberg.
Together, we will define the need for your company and determine the status of knowledge among your employees. We will draw up a matching training programme for any task. At the end of the course, there will be an exam and the participants will receive an indicative participation certificate. As a client, you can see at once whether the training measure was successful. During the language training, we perform a presence check that will complete the final reporting.
Do you have any questions about a company course at inlingua?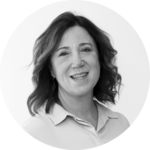 Are you interested in a company course at inlingua Ingolstadt and Abensberg? Or do you have further questions?
Please feel free to contact Jolanda Vitale-Vogel. By telephone on 0841 - 88 51 85-0 or send an e-mail.
We are looking forward to getting to know you!